A celebration will be held at the Sabhal Mòr Ostaig college on the Isle of Skye. This is to mark five years of success to the Tegola Project.
History of The Tegola Project
The Tegola Project started in 2007 when Professor Peter Buneman and some colleagues  deciding to create a research testbed. This was founded by the Edinburgh University. The aim of this project was to manage to get wireless broadband in rural parts of The North West Highlands because B.T. were only
offering very slow dial-up as the exchange was 10 miles away. Now, in 2012, The Tegola Project has become a permanent operation and the Arnisdale area are now receiving above average speeds!
We are very lucky to have such a person as Peter in the Arnisdale community as we are now getting speeds of up to 20Mbps (M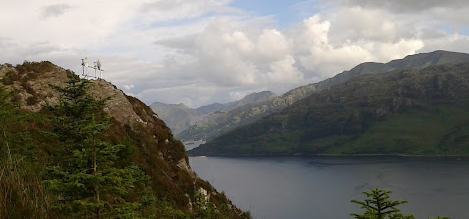 ega bits per second)! If we didn't have Peter in our community we would probably still be using dial-up!
Having broadband in these areas – or anywhere! is very important because people in school and at the work place rely on broadband for many various needs.
On the 3rd of June 2008 the BBC came and did a news report about The Tegola Project. You can find out more about publicity of the project here.
 The Celebration
The celebration will take place on the 12th of October and certain members of the community have been invited as well as some other people from across Scotland who have participated in community broadband projects.
New BBC Report, 12th Oct 2012